Can you believe it? Colter is ALREADY nine-months-old. Time flies! Our lives have sure changed since Colter's birth, but I can't imagine life without him now. He's such a blessing! I promise not to post quite so many pictures that might take a while to load in the future, but today is a special day!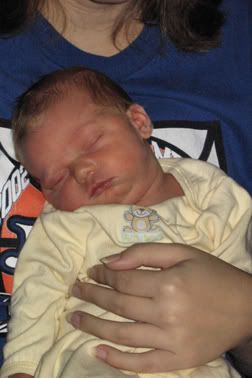 Colter's three-days-old here. Look how little he was! And his hair is a totally different color than it is now! It's amazing how tired we all were that first month, when he slept so much. He couldn't even wake up for this picture! He had a rough weekend though--birth, a bath, circumcision, etc.
One-month-old. Such big, beautiful eyes!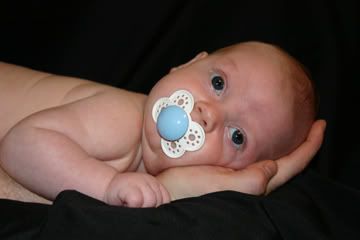 Aww...his first pacifier. He doesn't use that one anymore. Sniff. Now he uses big boy binkies.
I loved that little outfit. I wonder if I can even get it over his head now. He's actually a week or so over three months in this picture, but it's the closest I had.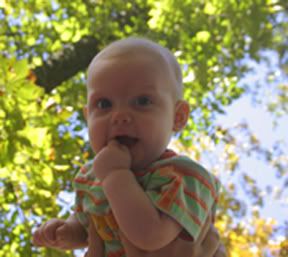 Colter's first camping trip! He loved watching the leaves blow in the wind. I'm so excited for spring! We're going to have a lot of fun showing Colter more of the great outdoors.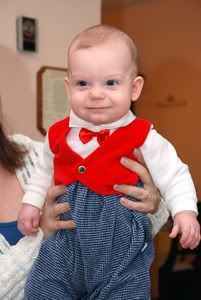 Isn't he a snazzy dresser? This was at Thanksgiving.
How adorable! I know as Colter's mom of course I'm biased, but I can't get over how cute this kid is! He's such a sweetie. He just melts my heart.
Well, again this is actually a week before 7 months...why didn't I make sure to take a picture on every month birthday? I've done pretty good though--there's more pictures in the house taken since Colter's birth than before, and I take a lot of pictures.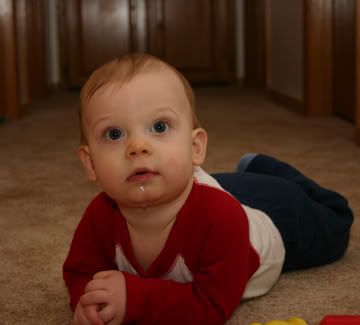 Eight months and as you can see from his position in the hallway, things are getting interesting! I never knew how fast one could army crawl from one end of the house to the other. He's speedy!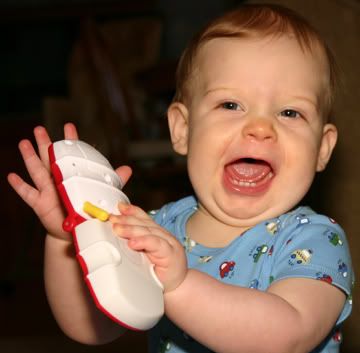 What a happy boy! This was a few days ago.
I've been struck lately with how much Colter has changed, and after looking back at these pictures the transformations are amazing. It's bittersweet--he's so fun to watch when he learns new things and has his adventures, but what happened to my little newborn??? I think I need some Kleenex. For future reference, I'm pretty sure I'll be a basket case at Colter's graduation and wedding. Just some advance warning.